Mortgage Lender
Mortgages Made Simple

Buying a house can be an exciting experience, but it can also be overwhelming, especially when it comes to finding the right mortgage lender. It's important to remember that not all mortgage lenders are the same. That's why I highly recommend Jack Shotbolt at Shotbolt Mortgage.
At Shotbolt Mortgage, their clients come first. Their tagline is "Mortgages Made Simple", and they live up to it. They use proprietary technology that makes the entire approval process seamless, especially for VA-eligible borrowers. Jack and his team also work to ensure that VA borrowers get a fantastic discount on their next mortgage.
As a Realtor with over 17  years of experience, I've worked with a lot of mortgage lenders. Unfortunately, many of them promise to work with borrowers, only to take days or even weeks to approve them.
That's not the case with Shotbolt Mortgage. Their streamlined process provides quick preapprovals and sometimes even same-day approvals for qualified borrowers. Plus, the online application process is quick and easy, which is essential when you're in a competitive market with low inventory real estate market in Omaha Nebraska.
So why do I give Shotbolt Mortgage five stars?
Because Jack and his team are exceptional. They make the home buying process as stress-free as possible, which is why I highly recommend them to my clients. But don't just take my word for it – check out the Google reviews for Shotbolt Mortgage Corp. You'll quickly see why they stand out from the rest.
If you're ready to get started on your home buying journey, contact Jack at Shotbolt Mortgage today at 402-850-9739 or just click the link below to get started.
Their team will work with you every step of the way to make sure you get the mortgage that's right for you.
Click the link here to get started: https://www.shotboltmortgage.com/Application/
5 Star Google Review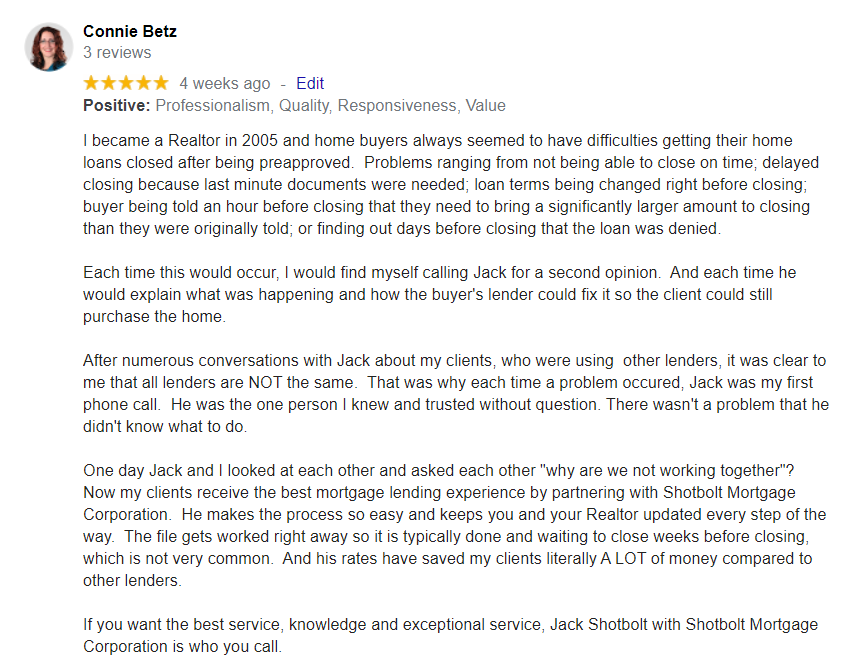 Contact Shotbolt Mortage Corp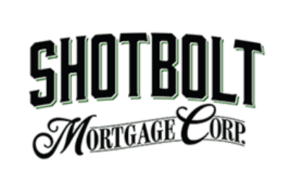 Shotbolt Mortgage is owned by Jack Shotbolt, who has over 20 years of mortgage experience right here in Omaha. With 5 Star ratings on Google, Zillow, and Facebook, he prides himself in making sure his clients have an experience that exceeds their expectations.

Jack Shotbolt, President
Certified Mortgage Planner
Lic. # 10196
402-850-9739
Licensed in Nebraska, Iowa and Florida
About Connie Betz
Connie Betz is an accomplished real estate agent with over 17 years of experience in the industry. She has earned a reputation as a trusted expert in home values and is highly regarded for her proficiency in working with both home buyers and sellers.
As a home valuation expert, Connie uses her extensive knowledge of the local market to help her clients make informed decisions about buying and selling property. She is known for her tireless work ethic and exceptional customer service, which have earned her a reputation as one of the top-performing agents in the region.
One of the key factors that sets Connie apart from other agents is the fact that over 80% of her business comes from personal referrals. This is a testament to the exceptional service she provides and the strong relationships she develops with her clients. Connie takes great pride in knowing that her clients trust her enough to recommend her services to their friends and family.
Whether you are a first-time home buyer, a seasoned investor, or someone looking to sell their property, Connie Betz and her team have the skills and experience to help you achieve your real estate goals. With her focus on building lasting relationships with her clients and her commitment to delivering outstanding results, Connie is the clear choice for anyone seeking a real estate professional they can trust.
Search Omaha Homes for Sale