Selling your house doesn't have to be a nerve-racking, time consuming, stress-inducing experience. In fact, with a little bit of forethought and some strategic planning, selling your house can be a swift process with lucrative results. Here are six simple steps to selling your house.
Hire the right real estate agent. Not all real estate agents were created equal. Do your homework, read reviews, and interview agents to find the right one for you. Your personality should be compatible with the personality of your agent, communication lines should be clearly established, and your agent should be an expert in the type of property you're selling, as well as the neighborhood in which your house is located. When possible, avoid working with friends or family members in the real estate industry, and beware of part time real estate agents.
Price your home effectively from the start. Your real estate agent will provide you with a CMA, or a Comprehensive Market Analysis, to demonstrate what houses in your area have recently sold for, and in what time frame. Comparing recent sales is different from seeing what is currently on the market. Recent sales show what buyers actually pay. Current listings only demonstrate what sellers are hoping to obtain. Your real estate agent will advise you on how to effectively and competitively price your home with room for negotiations.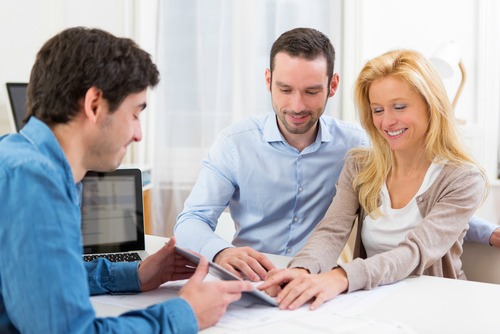 Stage your house for showings. Staging your house means cleaning everything thoroughly, repairing anything that's damaged or broken, painting if necessary, and arranging furnishings into simplified conversational areas. Be sure to remove any personal items such as photos, personal collections, and anything that presents a personal opinion, such as political paraphernalia. Be security conscious and remove any valuable items or weapons from the home, knowing your house will be open for strangers to investigate. When staging your property, don't forget the outside! Lawns and bushes should be well manicured, the yard should be free of toys, ornaments, or debris, and, if necessary, repair or paint any dull or damaged items.
Gather and prepare any paperwork that could be beneficial to potential buyers. Relevant paperwork could include homeowners' association documents, home warranty, C.L.U.E. report to disclose recent insurance claims on the property, warrantees for any appliances being sold with the property, and other pertinent information. You may also wish to include recent utility bills and property tax statements so potential buyers can estimate their expenses, as well as any menus or brochures for businesses and amenities in your area.
Be absent, and take your pets with you. Having potential buyers comb through your house with a critical eye can be discomforting. It can also be awkward to have pets in the house when strangers come in. You don't want to dissuade potential buyers by having your dog barking at them on entry, nor do you want to aggravate anyone's pet allergies. So, on the days your home is being shown, treat yourself and your furry household members to a day out.
Tell the neighbors. Your neighbors can be some of the best advertisers through word of mouth for your property. Your neighbors have a vested interest in who moves in to the house next door, and many may recommend your property to their own friends and family members to whom they'd like to live closer. It's also not uncommon for seriously interested potential buyers to introduce themselves to the neighbors and ask questions regarding the property and the neighborhood, so it's a courtesy to advise the neighbors in advance.
Once an offer is received on your house, and you accept, your property will undergo an appraisal and a home inspection. The appraisal is to verify to the lender the value of the property is worth the amount being borrowed, and the home inspection verifies the condition of the property to ensure against faulty items or structural damage. Upon completion of the appraisal and home inspection, the paperwork is signed, title is transferred, and you'll turn your keys over to the new owner and receive a check for your proceeds. Your real estate agent will advise you through each of these processes through closing. Congratulations on the successful sale of your property!
Call us today at 402-880-9027 to discuss how we can help sell your house.